Our board of Trustees represent various areas of expertise which are involved in these commemorations and give their time freely for this important kaupapa.
James Eruera
Co-Chair
NGATI HAU, NGATI KAHARAU, TE URI O HINA
James started building waka with Hekenukumai Puhipi in 2003 and spent nine years doing so.  In 2012 James was approached by the New Zealand Maori Arts and Cratfs Institute to lead their waka building programme at Te Wananga a Kupemaitawhiti in Doubtless Bay.  James is also recognised as a non instrument navigator or wayfinder by his teachers and peers and has successfully navigated the waka Hourua Te Aurere to Norfolk Island and from Rarotonga to Aotearoa using these skills.
Rob Gabel
Trustee
Rob Gabel is of Te Pātu, Ngāti Kahu, Te Rarawa descent.
Kaitiaki of Ngātokimatawhaorua at Waitangi, Chair Ngā Waka o Te Tai Tokerau, Chair Ngā Waka Federation (Toi Māori), Chair Ngā Waka o Tirohanga.
Robert has extensive experience of waka hourua, waka taua and waka ama.
Jane Hindle
Co-Chair
Born in England with a New Zealand Father and English mother, Jane was brought up in the UK and spent her working career in Europe, although a frequent visitor "home" to New Zealand.  She moved here permanently in 1990, moving to the Bay of Islands in 2000 after a long career in the telecommunications industry.
She is the Executive Trustee of the R.Tucker Thompson, a tall ship held in Trust for the benefit of Northland and has been involved since 1998. She has held board positions on Enterprise Northland, Destination Northland and presently serves on Northtec's Council.
She is involved with a number of other community organisations, as well as being a volunteer St John Ambulance Officer.
Tania McInnes
Trustee
Tania is a long time local, moving to the Bay of Islands (Kororareka – Russell) with her family at the age of four.  Schooled in the Bay, she now resides in Paihia.  She has a background in tourism, community development and project management.  Tania is in her second term as the Deputy Mayor of the Far North District.
Further details can be found at here.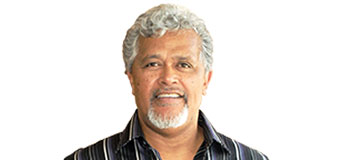 Te Warihi Heteraka
Trustee
Te Warihi Heteraka is of Ngāti Wai, Kapotai, Ngāpuhi, Tainui, Te-Uri-o-Hau descent. He is the Tohunga Whakairo o Te Tai Tokerau. He works with Te Puni Kōkiri to assist and support staff with tikanga, reo and cultural issues. He also works on issues in the community, and with the hapū and iwi of Te Tai Tokerau generally.
Kate Martin
Trustee
Kate Martin Kate is of Ngāti Porou, French and English descent.
She lives in Kororāreka Russell and is passionate about Tai Tokerau Northland. She brings a lifetime of work in the culture and heritage sector to our Trust and is a Director of Hikoi Tahi, a local app-designing business that shares stories of Kororāreka Russell from both world views.
Kate's work in the North was recognised when the French Government made her a Chevalier de l'ordre des Arts et des Lettres. She is also a recipient the John Dunmore Medal.
National Coordinating Committee
The National Coordinating Committee comprises two members from each Landfall Site Trust:
Richard Brooking & Dame Anne Salmond (Te Hā 1769 Sestercentennial Trust)
Paul Kelly & Joe Davis (Mercury Bay 250 Anniversary Trust)
James Eruera & Jane Hindle (Te Au Mārie 1769 Sestercentennial Charitable Trust)
John Hellstrom & Raymond Smith (Totaranui 250 Trust)
Manatū Taonga  – Ministry for Culture and Heritage
Department of Conservation
NCC co-chair Hoturoa Barclay Kerr
Hoturoa Barclay-Kerr (Tainui) is the captain of the oceangoing waka Haunui. He is the son of Wharetoroa and Ngarungatapu Kerr, is married to Kim and has five children: Namaka, Turanga, Rangiiria, Noenoe and Hinemanu. Hotu has been sailing around the Pacific for more than thirty-five years. He paddles waka, sails waka, teaches waka.
Hoturoa grew up with his numerous elders who nurtured and cared for him on the many marae of Waikato. He is a native Māori speaker and spent the first six years of his life with the Tuhoe people in Rūātoki, where his parents taught at the Rūātoki District High School. When he and his mother moved to Auckland when he was six years old, he learnt only the English language. Hoturoa recalls how the children laughed and mocked him for his inability to speak English when he started school in Auckland. He was educated at Onehunga High School and went on to study for a BA at the University of Auckland, and a Masters at Waikato University. His Master's thesis investigated how the waka is a symbol of mana in the twenty-first century. He was a lecturer at Waikato University for over nineteen years. More recently he has specialised in education and leadership programmes that use the waka as a platform for learning and development.
NCC co-chair Dame Jenny Shipley
Dame Jenny Shipley is a Former Prime Minister of New Zealand and now an Independent Director and Chairman of China Construction Bank NZ Ltd, Genesis Energy and a number of other companies and organizations.
Dame Jenny Shipley was PM from late 1997 to late 1999. She held a number of Senior Ministerial positions in the New Zealand Government from 1990 and 1997. In 2002 she retired from NZ politics and returned to the business and community sector. Dame Jenny has an intense interest in the Asia Pacific region and is a regular visitor to China.
Dame Jenny has been married to Burton for over 40 years, is the mother of two adult children and grandmother to Otis, Flynn and Zara. Her passion is working with leaders who have the courage and competence to help "shape the future" of their communities, their companies and their country.